Tasting is by appointment only
Information
Cabernet Sauvignon
Chardonnay
Merlot
Petite Sirah
Viognier
Wine Club Membership
Premiere Napa Valley Wines

About Us
Seven miles north of Napa, in a valley within a valley, lies the century-old, 240-acre wine estate known as Stags' Leap. A 90-acre vineyard, divided into 23 separate blocks based on soil type and sun exposure, produces outstanding Cabernet Sauvignon, Merlot and the winery's signature Petite Sirah.
Our Makers' Story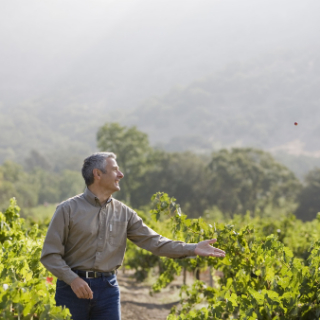 Senior Winemaker and General Manager
Christophe Paubert
— The fruit is the inspiration, the fruit is the star.
Read
Location
Stags' Leap Winery
6150 Silverado Trail
Napa, CA 94558
View Winery Map
Guests of Stags' Leap Winery enjoy a 90 minute intimate tour and tasting experience that pairs its handcrafted wines and legendary history within the striking setting of the Stags Leap Palisades. The experience has you relaxing and strolling through one of California's earliest wineries while enjoying our stylish wines.

Tasting Tour Times: 10:00am and 2:30pm - BY APPOINTMENT ONLY
Unique Features
Founded in 1893, Stags' Leap became a fashionable country resort in the mid-twentieth century that was popular with Hollywood stars, bootleggers and gangsters, ghosts and gypsies.

Stags Leap Manor, as it was called in the 1920s, was known as one of the prominent country retreats in the Napa Valley at a time when resort and spa business was big. In addition to lodging and dining, amenities included lawn tennis, swimming, horseback riding, children's activities, golf, music, cards, a library, and Napa Valley wines and liquors (prior to and after Prohibition).

Reservations:
800-395-2441
Tasting fee
Seated tasting available
Private tasting available
Indoor tasting area
Outdoor tasting area
Historical landmark
Gardens
Couches
Fireplace
Sustainable practices