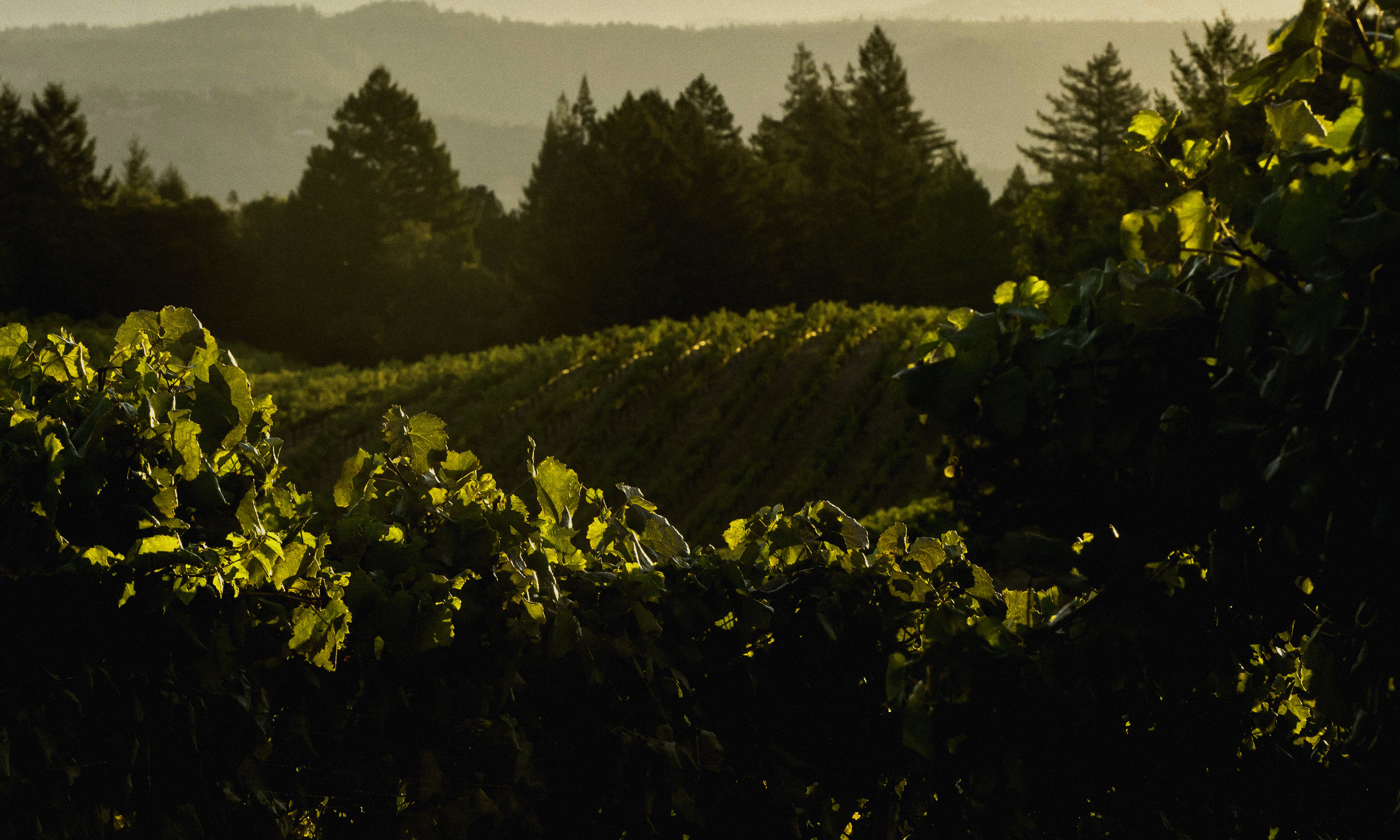 Tasting is by appointment only
Information
Atlas Peak
Calistoga
Coombsville
Howell Mountain
Los Carneros
Oak Knoll District of Napa Valley
Oakville
Rutherford
Spring Mountain
St. Helena
Stags Leap District
Wild Horse Valley
Yountville
Cabernet Sauvignon
Chardonnay
Red Blend
Sauvignon Blanc
Canada
China
Japan
Luxembourg
Russia
Switzerland
Thailand
Wine Club Membership
Premiere Napa Valley Wines

Certified Winery
Certified Land
About Us
Alpha Omega, a boutique winery in legendary Rutherford in the heart of Napa Valley, was founded in 2006 by Robin and Michelle Baggett. Surrounded by vineyards and mountains, the beauty of this modern, farm-style winery is as captivating as its wine.
Alpha Omega's extraordinary winemakers, utilizing fruit from historic and estate-farmed vineyards, collaborate to create wines that express the essence of this famous wine region. Using grapes from their own vineyards, along with sourced prized grapes from nearly every appellation of Napa Valley, the winemaking team blends the essence of exceptional and unique terroir ranging from valley floor, hillside, mountain and coast. Natural techniques are relied upon to handcraft finesse-driven, complex and balanced wines which express the aromatic profile of the best Napa Valley has to offer.
Our winemakers create elegant, approachable and perfectly-balanced wines of the highest quality by combining the Old World's philosophy of balance with the New World's state-of-the-art techniques and naturally opulent fruit.
We are open for tastings on our beautiful and spacious terraces, which offer picturesque views of our landmark fountains, vineyards and the Mayacamas Mountains, daily from 10:00 A.M. to 6:00 P.M. Reservations are required at all times with a maximum party size of eight. Indoor private tastings are also available. Wines may be enjoyed in flights and by the bottle. Alpha Omega also offers a variety of tasting flights, including showcases of our exclusive Single Vineyard wines, Library wines and Futures.
Please call 707-963-9999 or email concierge@aowinery.com for a reservation.
Alpha Omega is open daily from 10:00 A.M. to 6:00 P.M. for outdoor wine tasting experiences on our beautiful and spacious terraces, which offer stunning views of our landmark fountains, vineyards and the Mayacamas Mountains. We also offer indoor private tasting experiences in beautiful spaces, each uniquely elegant. A variety of tasting experiences await, ranging from Signature Selection to Single Vineyard to Library Selection wines. Reservations are required at all times with a maximum party size of eight. Virtual offerings include live, interactive, monthly virtual tasting experiences in a group setting with our winemaker and his virtual tasting team as well as a private virtual tasting experiences with a knowledgeable and personable wine educator. Choose from several flight options or allow us to curate a selection uniquely tailored just for you.
View
Relax in a picturesque setting that includes landmark fountains, vineyards, the Mayacamas Mountain range and dazzling sunsets.
Unique Features
Alpha Omega offers picturesque views of its landmark fountains, vineyards and the Mayacamas Mountains from its terraces.

In 2016, Alpha Omega placed into operation a 400 kilowatt (kW) solar and 580 kilowatt-hour (kWh) battery microgrid system that includes a first-of-its kind, fully integrated solar and battery facility back-up power system. This groundbreaking microgrid system, which encompasses solar power generation, energy storage and demand management, is the largest commercial microgrid system to date for a Napa Valley winery and in all of Pacific Gas and Electric Company's 70,000-square-mile service area in northern and central California. The solar power system is designed to supply nearly 100 percent of the winery's energy needs, and the five arrays were architecturally designed to serve as shade structures for parking and winery equipment.

Music
Enjoy an eclectic mix of music played throughout the estate.
Wine Education
Learn how wine is made at Alpha Omega, about our vast vineyards covering nearly every sub-appellation, harvest and winemaking in general.
Family friendly
We have a beautiful outdoor area for children and families to enjoy. Coloring books and crayons are provided to children.
Virtual Tastings
Join our Winemaker and his Virtual Tasting Team for a series of Virtual Experiences from beautiful settings on-site at Alpha Omega. Alpha Omega comes to you from our estate in Rutherford, delivering live, interactive tastings with education and insight, food-wine pairing suggestions with live culinary demonstrations, wine pre-shipped to your home or office, Wine Club shipment tasting experiences and wine education videos. Or dive into our digitally-recorded experiences found on our website at your leisure. Designed for wine lovers of all level, learn the story behind each wine from vineyard to bottle and discover which foods to pair with a wine during our monthly Live Virtual Tastings.
Reservations ‐
707-963-9999
Virtual tastings available
Tasting fee
Tasting fee waived with wine purchase
Seated tasting available
Private tasting available
Barrel tasting available
Outdoor tasting area
Unique architecture
Gardens
Family friendly
Dog friendly
Art on display
Couches
Fireplace
Romantic
Sustainable practices
Meeting space for up to 100 people
Winemaker or owner usually available
Family run