Fine wine may be what draws most visitors to Napa Valley, but America's pre-eminent wine region is becoming a destination for garden enthusiasts, too. In recent years, several prominent wineries have installed ambitious culinary gardens to enrich their hospitality programs and nourish employees. In a crowded universe, wineries are finding that an Instagram-worthy garden of edibles is one way to stand out.
"I think it's the tenor of the day," says Molly Chappellet, widely considered the grande dame of gardening in Napa Valley. Her much-photographed garden at Chappellet Winery atop Pritchard Hill in St. Helena has never been open to the public but has been part of this illustrious brand's story for decades.
"Eating fresh from the garden is a theme now," says Chappellet, "although it certainly wasn't when we came here. For us, it was a necessity because we were so far from town. The only intelligent thing to do was to plant fruit trees and be self-sufficient."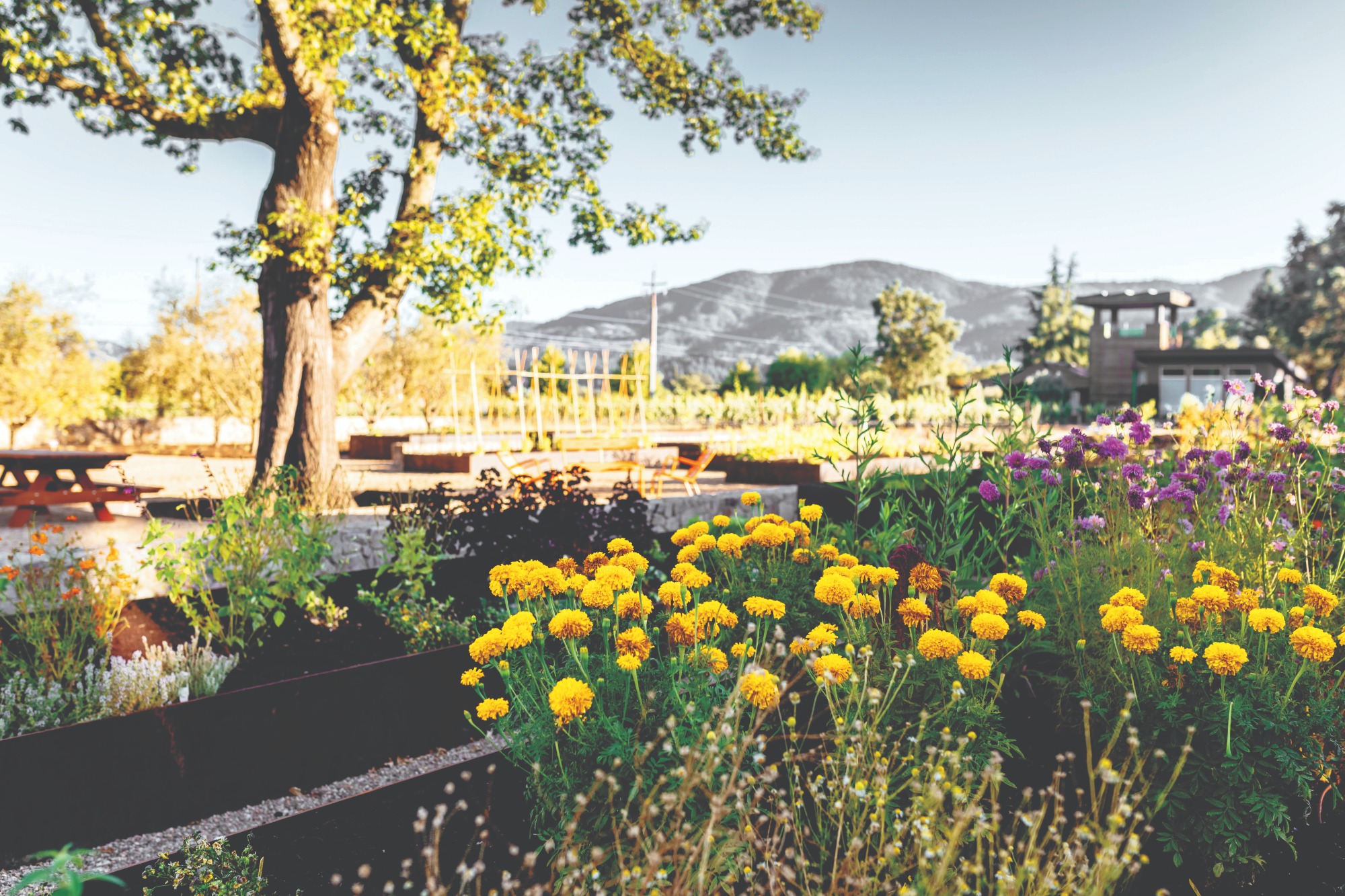 Fresh-Picked Flavors from Wheeler Farms
Today's culinary gardens feed into farm-to-table hospitality and delivering a memorable visitor experience. At Wheeler Farms, Bart and Daphne Araujo's winery in St. Helena, a chef with fine-dining credentials oversees the farm side: a quarter-acre fruit orchard, cutting garden, chicken coop and a flotilla of raised beds.
"People come to the valley to see the true California, and that's what we try to do here," says Sarah Heller, Wheeler's executive chef and garden director. Daphne, a former landscape architect, designed the garden "start to finish," says Heller. "She is super-passionate about gardening."
Heller knows her assignment is to flatter the wines, even if fresh fruits and vegetables aren't the go-to pairing for Napa Valley's intense Cabernet Sauvignons. She has risen to the challenge. Techniques such as dehydrating fruits and roasting vegetables with savory herbs yield the deeper, more concentrated flavors that create a bridge to the estate's wines, says the chef. She roasts baby carrots to pair with lamb and toasted farro. Radishes might get roasted with thyme, garlic and butter, while the tender tops become a spicy pesto. Summer squashes add color and sweetness to Heller's wine-friendly curries, and meat stocks help give her plant-forward dishes more depth.
The garden keeps Heller busy with jamming, pickling and preserving. Visitors to Wheeler Farms often leave with a little take-away, says Heller, like house-made jam from orchard fruit or fresh eggs.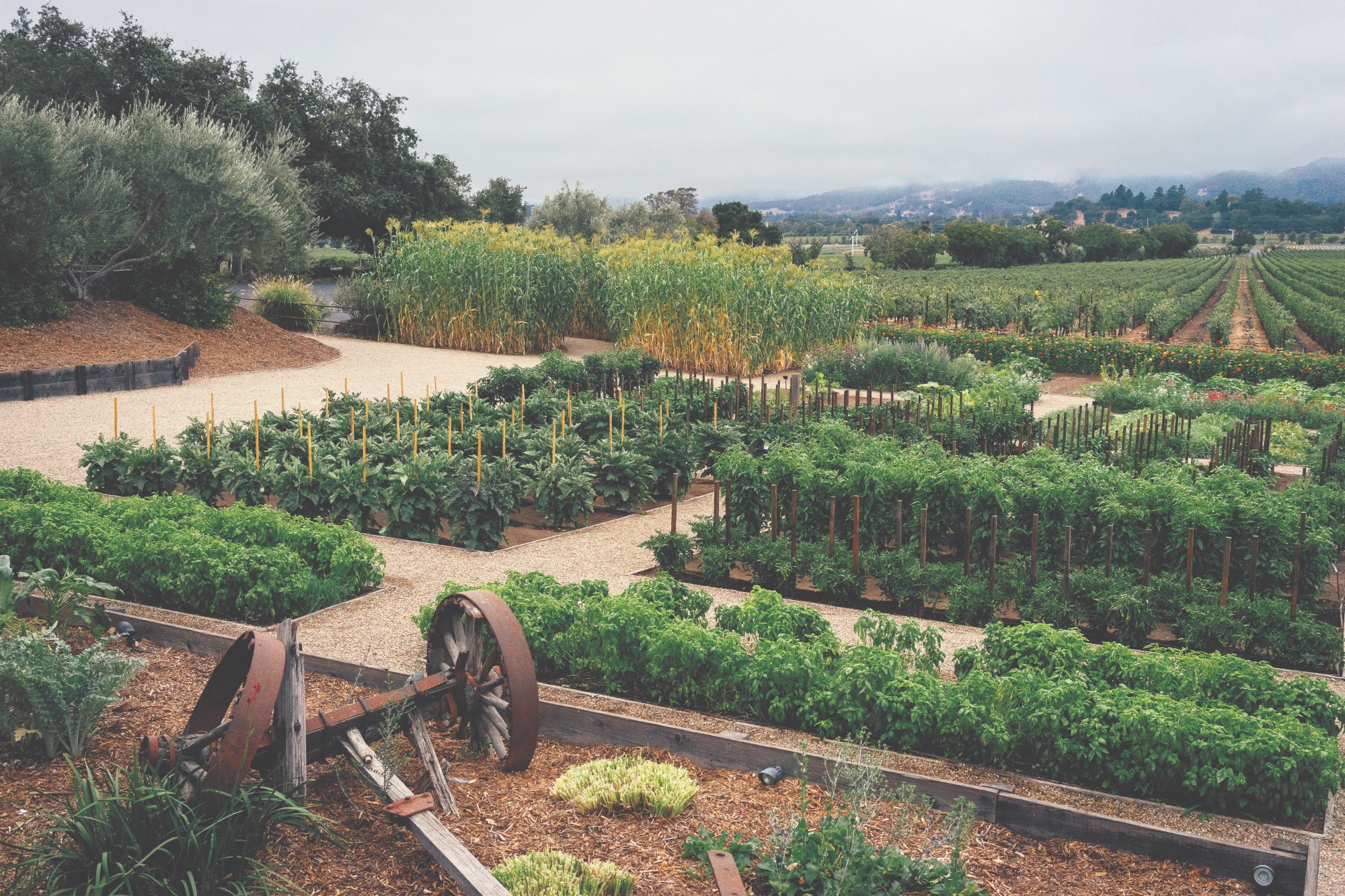 Italian Inspiration at Regusci Winery
At Regusci Winery, in Napa's Stags Leap District, the garden theme is "Italian abundance," says vintner Laura Regusci. Husband Jim's Italian heritage means the family kitchen requires lots of artichokes, eggplant and tomatoes. But Laura has Kentucky roots, which explains the corn and okra, and the family chef, Angel Perez, is Oaxacan so he needs hot peppers for salsas and mole. Twenty flourishing avocado trees—a rarity in Napa—have found a sweet spot on this property and help provision a modest honor-system farmstand for the neighbors.
"Farming has been part of our family for three generations, and the garden tells that story for us," says Laura. "It adds authenticity and shows what our family is all about." Visitors can stroll through the garden, nibbling en route. As guests approach the tasting room, Laura heaps the day's harvest on the Fresh Market Wagon.
"Jimmy gives me a hard time because he looks at what people are posting on Instagram and it's all about the vegetables," says Laura. "He calls them our $800 zucchini because they're grown on Cabernet land. We are committed to sustainability as a whole on our ranch. Our chickens love the food scraps; our pigs, goats and sheep love snacking on garden-fresh vegetables. Everything we do here has a purpose."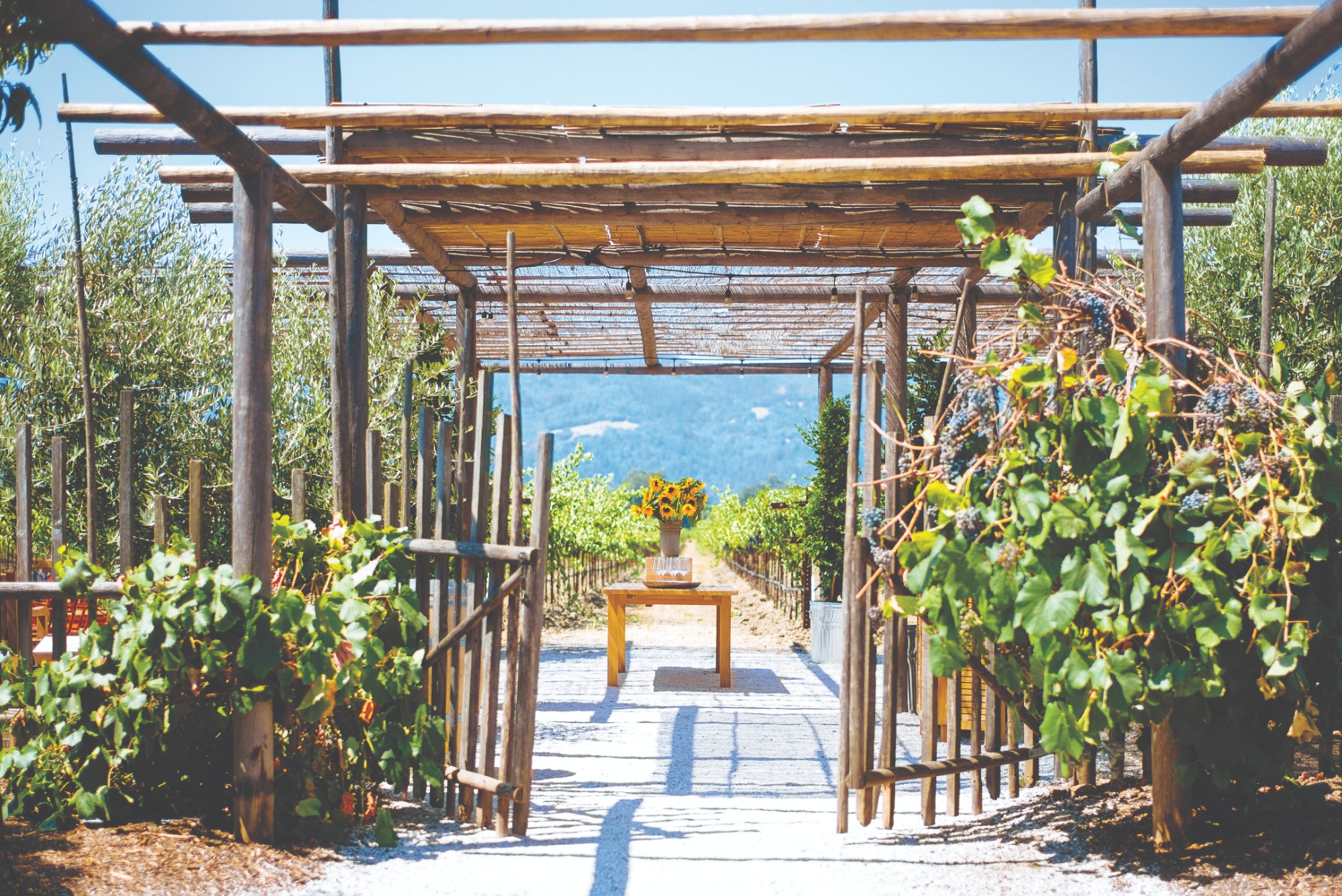 Back to the Land at Round Pond estate
Daphne Blackmer has the enviable job of overseeing the three-quarter-acre edible garden at Round Pond Estate in Rutherford, a collection of raised beds that provides "edu-tainment" for visitors. "A lot of our clients haven't had experience in a garden," says Blackmer. "They don't realize how figs grow or what Meyer lemons are."
A sensory station in the garden identifies plants that correspond with aromas found in Round Pond Estate's wines, such as grapefruit and dill for Sauvignon Blanc and oregano and black currants for Cabernet Sauvignon. "We encourage people to taste, so there's a hands-on element to the garden visit as well," says Blackmer.
For this rigorously organic year-round garden, Blackmer and chef Jamie Prouten collaborate, perusing the Baker Creek Heirloom Seeds catalog ("gardener's porn," says Blackmer) for unusual varieties that give Prouten the color he wants on his plates. Heirloom chickens provide eggs for the table, and beehives, sustained by the property's diverse plantings, yield aromatic honey.
For Napa Valley visitors, these scenic gardens can provide an enjoyable addition to wine tasting. And despite the value of the land they're devoting to lettuce and carrots, many vintners say there's no turning back. "Once you start ... eating right out of the garden," says Chappellet, "you just can't have anything else."
To plan your next visit to Napa Valley and discover more winery gardens, check out our Trip Planner Map. Please note that many Napa Valley wineries are open by appointment only.
---
Tips to Garden By
From Daphne Blackmer:
Start small and understand that a garden is never finished; it evolves.
Garden without chemicals; your great-grandparents did. There are almost always nonchemical solutions to a problem.
Don't fret when a planting doesn't thrive the first time; learn from the mistake and try again.
Set yourself up for success. Don't try to grow a plant out of its element. Some fruit trees need a warmer climate or more chill hours than they get in Napa Valley.
From Sarah Heller:
Be organized. Keep a calendar to remind you when to plant and harvest.
Don't let anything you grow go to waste. Cook chard stems, broccoli leaves and tender radish tops. Compost all your peelings and scraps or feed them to chickens.
Why plant one type of basil when you can grow six or eight in different colors and shapes? Scatter their leaves like confetti on a tomato salad.
Plant a few unfamiliar varieties each season. Try pink-fleshed watermelon radishes or "Berkeley Tie-Dye" tomatoes to add color to salads.
From Laura Regusci:
Put plants with similar water needs together. "Early in my career, I learned that," says Laura. "I got creative and did cute thematic beds like a pickling bed and a salsa bed, but the irrigation got complicated. Now we're back to basics."
Feeding the soil, not the plants is another important tip. Healthy, living soil is the key to healthy plants and a goal of all organic/sustainable farming. We accomplish this through composting and cover cropping. (We use all of the pomace from winemaking operations and turn it into beautiful compost.)
From Molly Chappellet:
Be sure to include flowering plants in the garden that attract bees, beneficial insects and butterflies.
Harvest strategically to keep the vegetable garden looking good. Don't take the red cabbage from the middle of the row if you can take one from the ends.