Chris Kajani is as energetic as the white wines she makes, and it was the energy vibrating through the soil at Bouchaine Vineyards that drew Kajani to this unique estate. Planted in the 1880s and acquired by Gerret and Tatiana Copeland in 1980, Bouchaine Vineyards stretches across 87 acres in cool and windy Los Carneros. While most of the vineyard is planted to the beloved Chardonnay and Pinot Noir, 10 acres are dedicated to the aromatic whites we associate with the terraced slopes of Alsace, far from Napa Valley. Yet here Kajani is crafting playful and vibrant aciddriven white wines made from Gewürztraminer, Pinot Gris and Riesling. This was not always the plan.
In 2017, it came time to replant several acres of the vineyard. Soil analysis revealed that a lower section of the property sat above a natural water source so abundant that the cover crop would stay green through June. In conversations with other viticulturists in Los Carneros, she discovered that aromatic white varieties had the potential to produce beautiful and complex wines when planted in wetter areas. For Kajani, Riesling was an easy choice. But it was Tatiana Copeland who introduced the idea of adding Gewürztraminer to the estate. Twenty years prior, Bouchaine made a Gewürztraminer loved by locals and the Copelands. At the time, they sourced grapes from other vineyards in the valley. Now they had the opportunity to grow their own—but neither Kajani nor her team had any experience with the grape.
"The 2020 [vintage] is the very first Gewürztraminer," says Kajani. "I had never made it before, and the team had no experience with it outside of tasting it. It was really fun to watch it through fermentation and to see how it's aged—and to taste it in the vineyard." During veraison, the clusters turn from green to a golden pink reminiscent of sparkling rosé wines. Straight off the vine, the grapes are flavorful with heady floral characteristics. Thanks to the cooling winds blowing in from the San Pablo Bay, the wine retains its acidity and freshness in the glass. It holds its energy.
On almost the complete opposite end of Napa Valley, tucked between Howell Mountain and Chiles Valley AVAs, sits Pope Valley. Its location on the backside of Howell Mountain mitigates any maritime influence; thus, whereas the vineyards of Los Carneros are cool, foggy and sometimes wet, Pope Valley is much drier and hotter. This combination often results in smaller berries with concentrated flavors. Nestled in this valley is the Henry Ranch Vineyard, with gnarly head-trained and dappled heritage vines of Chenin Blanc, many at least 55 years old. A thin layer of alluvial sediment sits atop clay and volcanic soils. Despite the daytime warmth, the eastern slopes of Pope Valley darken sooner, and the heat dips with the setting sun.
Winemaker Shaina Harding and 12-time Olympic medalist and world champion swimmer Natalie Coughlin Hall knew that building a brand based on Chenin Blanc from Napa Valley might seem like an unusual choice, but it was made out of genuine love for the grape and the kind of wine it could produce. Harding's primary work as the winemaker for Hunnicut is focused on Cabernet Sauvignon and Chardonnay—wines she loves. Still, she was hungry for the opportunity to add something different to her repertoir.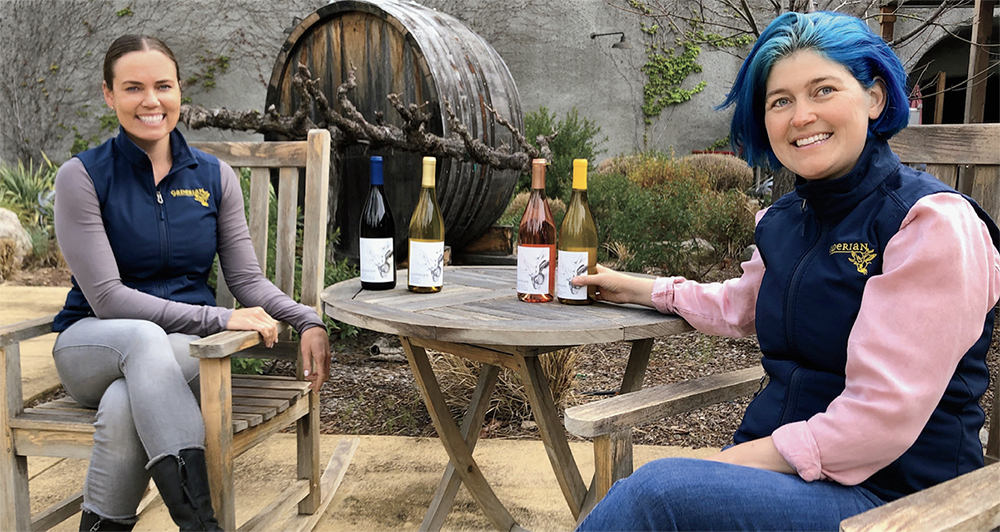 When a friend told her about their recent purchase of Henry Ranch Vineyard, she sent a text to Coughlin Hall, and it did not take much convincing for Coughlin Hall to partner with her to establish Gaderian Wines. Coughlin Hall is a native Northern Californian who grew up with wine present at the dinner table. As her appreciation of wine grew, so did her love for bright white wines. In 2019, she published a cookbook of wholesome and nourishing recipes inspired by her Filipino background. It just so happens that Chenin Blanc is a wine that complements many of the foods she loves.
Despite its relative obscurity in Napa Valley, the grape has played a key role in the history of California winemaking. It was once the most planted grape variety in California before it developed a reputation as a wine incapable of complexity and nuance. Over time, its presence in the valley has dwindled to a mere 10 to 14 acres, with Harding and Coughlin Hall holding a sliver of those acres.
The Gaderian Henry Ranch Chenin Blanc is anything but boring, in part due to the terroir of Henry Ranch and in part due to Coughlin Hall and Harding's affinity for racy white wines. They take a minimalist approach to their winemaking, putting their ears to the singing bungs and nurturing the wine. For the 2020 vintage, they harvested earlier than usual, providing free-flow juice that had a bright, bold acidity and choosing to do a gentle whole-cluster press before cold-soaking for 24 to 48 hours. They decided to barrel ferment in neutral oak (for a soft way to ferment and age the wine) and do bâtonnage two to three times a week (to create a smoothness on the palate). "I'm a wine nurturer. I am always listening to the wine," says Harding. What makes their old-vine Chenin Blanc so distinctive? Couglin Hall says it is an overpowering floral aroma and the honeyed notes that are characteristic of Henry Ranch.
Whereas Harding and Coughlin Hall set out on a mission to craft a rare Napa Valley Chenin, Elizabeth Vianna, head winemaker at Chimney Rock Winery, started making the small-batch Fiano, a white wine grape variety often associated with the Campania region of Italy, as a lesson. She had her cellar team harvest a few rows in order to appreciate the work of the harvest crew. Now, the Fiano harvest serves as a team-building event that includes people in production, marketing and sales, and acts as a reminder of the hard work the picking crews do each year.
Teaching moments aside, Vianna believes that making great white wine is a much bigger challenge than making red wine. With her assistant winemaker, Laura Orozco, they are responsible for producing single-vineyard Cabernet Sauvignons. Chimney Rock Winery sits on a 180-acre parcel, 119 planted to Bordeaux varietals and divided into 28 distinct blocks. Yet, in addition to the Fiano, some 6.6 acres of Sauvignon Gris are nestled among the Cabernet.
Former Chimey Rock Winery head winemaker Doug Fletcher was on a mission to create a wine inspired by white Bordeaux and was looking for a grape variety that would fit in well with their property. After tasting Sauvignon Gris from Chalk Hill, he found that it replicated the flavors and mouthfeel of Semillon, one of the blending grapes in white Bordeaux, yet it managed to retain its acidity. Thus Elevage Blanc was born.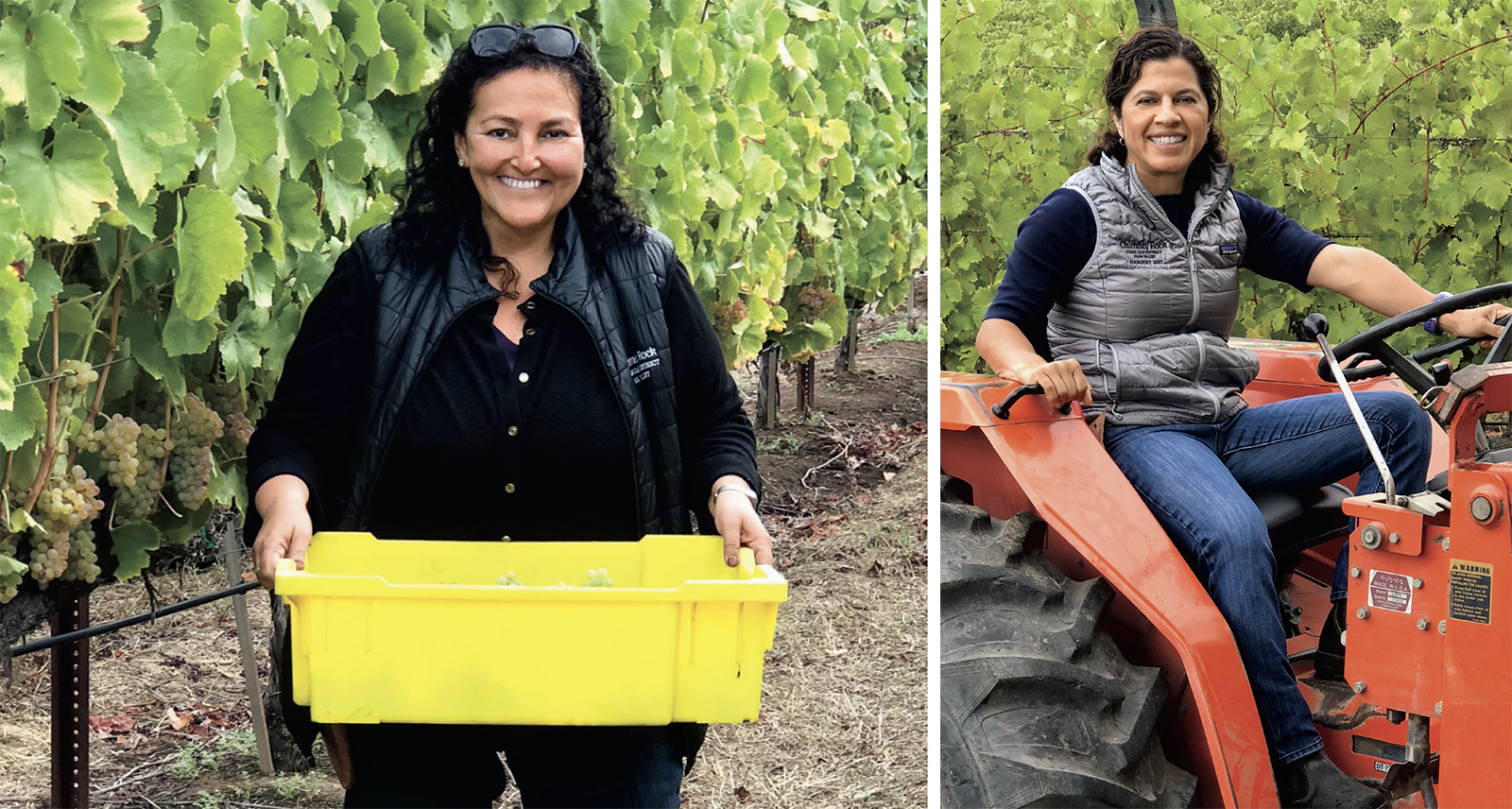 This wine is precious to Vianna and Orozco. Unlike Vianna, who found comfort in crafting Cabernets, Orozco has worked with more than 15 varieties. Together, they developed a special press program for the Elevage Blanc, using eight different yeasts and a blend of neutral oak and stainless steel. To Vianna, the result is a "white wine for the red wine drinker" because of its complexity, ageability and depth. "It's thought-provoking. It's not just a simple, fruity, crisp white," says Vianna.
Curiosity, passion and risk continue to pay off for these winemakers. They are just a few of the many women in wine who challenge perceptions of what Napa Valley wines can be. This might be Cabernet country, but there is still plenty of room for the unexpected.